My ront entry table. The poor jackie at the bottom got sat on by somebody and his eye is messed up! But it just makes him look creepier! Don't it?
Here is my boring little front yard this Halloween. I really need to spice it up a little bit, don't I? So I went on an internet hunt.....da dum.....da dum....(jaws music in the background as I hunt...)
Here I am in my cool costume as Jessie from Toy Story. I made the costume myself! Aren't I the crafty one with a glue gun! LOL.
Here's a picture of my daughter's family I took this past October. Argh! Mateys! It was a fun Halloween. I love decorating for Halloween. Here are some fun ideas I found to try this year!



Cute end table all decorated in Halloween fun.
How easy would these milk cartons be to line your walkway for Halloween? Inspiring Pretty had lots of other ideas too....so Get started saving milk cartons NOW!
Real Moms real views had a cute idea with black crows and orange pumpkins to Halloweeny up your front porch with the Halloween colors. Very cute!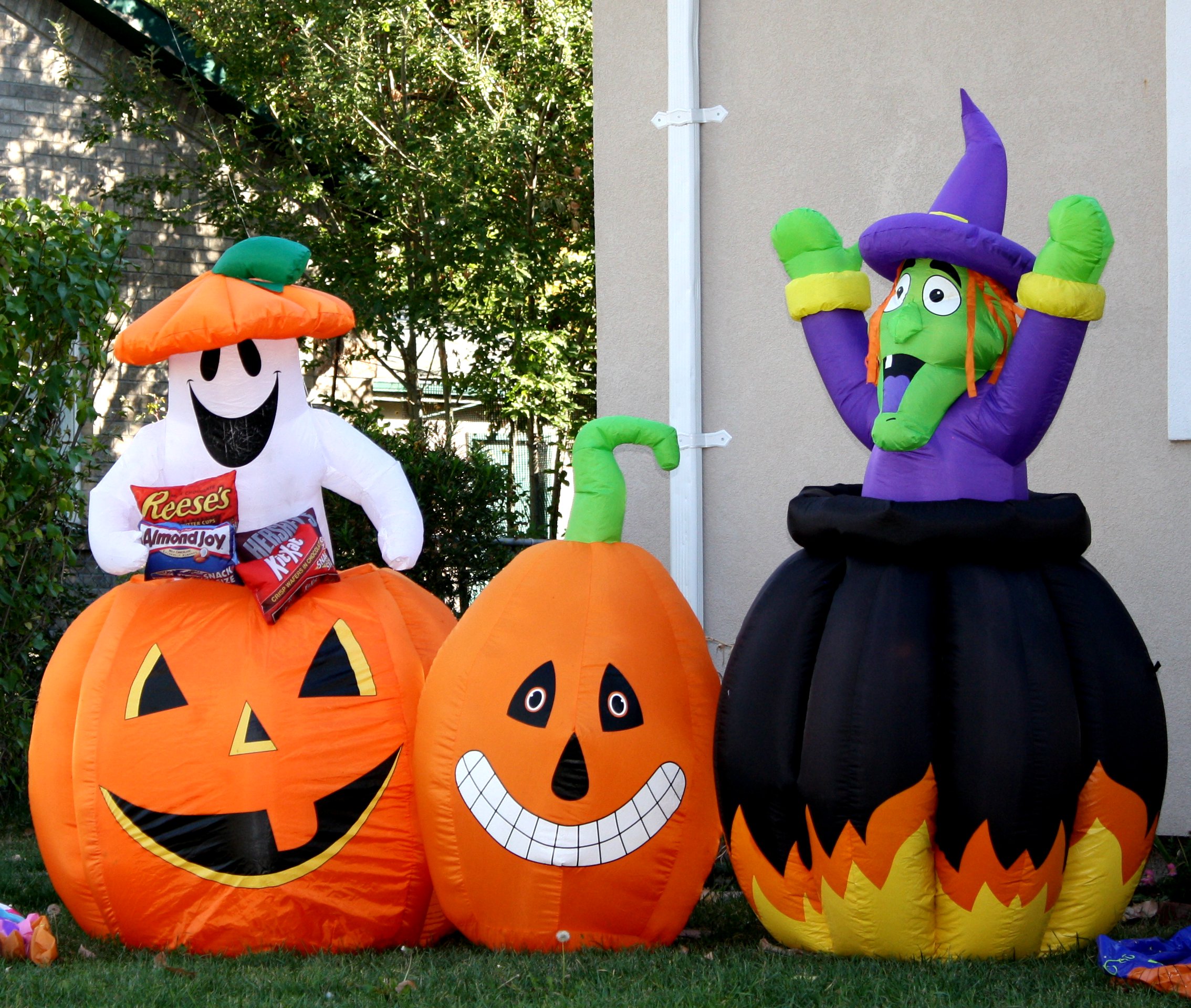 These guys look even more fun than mine. My neighbor goes all out on Halloween. She's even
got a movie showing up on her garage door. Too fun!
These funky skeletons on Celebrate Halloween.com's website were so simple yet so cute lining the path.
I love shepherd's hooks in my yard. I have them everywhere. And for this reason; I can change the thing I hand on them with the seasons. I use a giant red jingle bell at Christmas, a Turkey at Thanksgiving, a Pumpkin or two at Halloween.
Check out dofaso's website.
for more ideas.
Craft Passion had this cute tutorial on making ghost outdoor lights from ping pong balls and a string of white lights...SUPER CUTE! My grandkids would LOVE these!
At Float Project.org they did a great front porch all decked out for Halloween. I love the simple wreath on the door!
I better get my stuff out and get busy decorating. October is right around the corner! And I want to be all ready since Halloween is my favorite holiday!